ThinManager gives you an easy-to-use, centralized and scalable management platform for safely and securely delivering your content to any combination of device, user and location.  It seamlessly integrates with your current PLCs and HMI, and allows you to:
ThinManager offers centralized management solutions for the modern factory & office by simplifying management of applications and visual sources.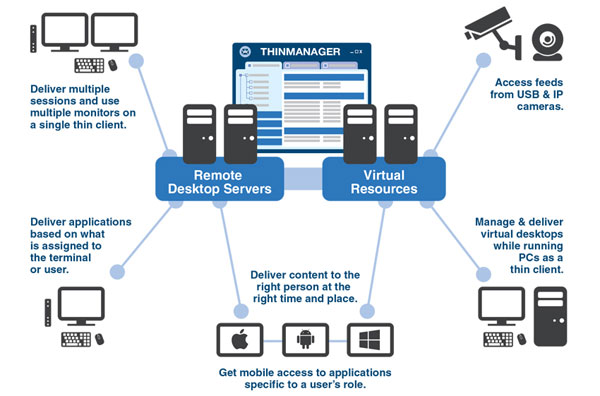 In addition to Virtual Screens, the following features are also included with the release of ThinManager version 9.0:
USB camera support – creates video display clients just like IP cameras
Single port TFTP – improves boot performance of terminals whose server is behind a firewall
Authenticated Email – Now send email messages without a proxy server
Virtual Screens – Lay out custom-sized screens on a single monitor
Session Scaling – Auto-scale Display clients to fit custom screen layouts
Terminal Server Grouping – Instead of selecting multiple terminal servers for a display client to run from, you can now create terminal server groups and assign server groups with a single click
SMS Messaging – Now send a text message from ThinManager in additional to emails
VNC Capability – Now your Panel View applications (or any other VNC source) can be shadowed and deployed to any mobile device configured with ThinManager Relevance®
Take control of your automation network, reduce downtime, increase security
and eliminate those late night phone calls with ThinManager.
Contact IES, or check out the links below for additional info.
---
Discover more