Available in discrete, analog (o to 10 V or 4 to 20 mA), clear object, and IO-Link models, Banner's Q4X is a versatile, rugged laser distance sensor is capable of detecting sub-millimeter changes in distance and now offers reliable sensing range from as close as 25 mm to as far as 610 mm. 
In fact, Banner's rugged Q4X sensors are capable of detecting targets, regardless of shape, material, color, transparency and reflectivity. 

It delivers superior ambient light immunity and performance - with highly reflective and multi-color surfaces, or light-absorbing materials and low contrasts, such as black foams or rubber combined with black plastics or metals.  With dual teach mode, the Q4X uses a combination of intensity and distance, making it ideal for error-proofing applications and reliable detection of challenging targets, such as clear packaging and transparent object detection without a retroreflector.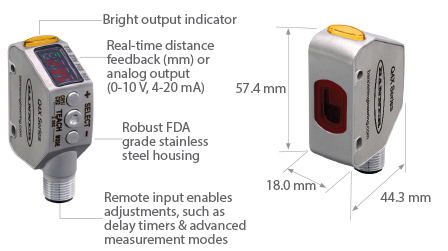 Tight space requirements? The new flush mount housing models for the versatile Q4X Sensor provides more integration possibilities and greater installation flexibility, with the same superior performance, ambient light resistance and durability of standard Q4X models.  In addition, they are capable of detecting sub-millimeter changes in distances ranging from 35 to 310 mm.


Application solutions include:
---
Contact IES to discuss a Q4X solution for your application.
---

Discover more