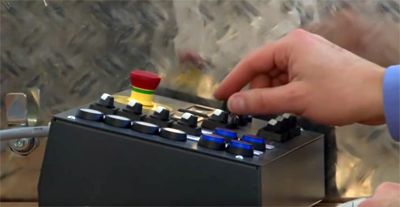 Who should attend:
Controls engineers using PCS7 to develop a process system solution.

Prerequisites:
 Industrial controls experience
 Basic computer skills
2.9 CEUs (Continuing Education Units)
PRICE:  $3,310.00
This course is designed for individuals receiving an engineered PCS7 system and responsible for system sustaining and service. The goals of this course are to help the student learn to efficiently use, optimize and troubleshoot their process through the PCS7 system.
This course begins with the students learning the key system architecture and operational functions. The course then builds a solid foundation of system fault analysis of software configuration, important basic project settings including physical components, software configuration, basic module parameterization and system networks. Students will then learn how to analyze errors/faults using the system tools and determine the cause and corrective action of these errors/faults. This hands-on course builds experience with system use, optimization, common troubleshooting and basic service engineering tasks.
Objectives:
Upon completion of this course, the student shall be able to:
Navigate the various types of PCS7 documentation.
Navigate a PCS 7 OS runtime station including the built-in diagnostics screens.
Use the system architecture to aid in diagnostics.
Identify which part of the database is responsible for each part of the configuration.
Navigate the PCS 7 Multiproject structure for intenance, diagnostics and modification of the system.
Identify different causes of errors/faults.
Analyze problems efficiently.
View the messaging system in various ways to use in troubleshooting functions.
View the Asset Diagnostics system in various ways to use in troubleshooting functions.
Perform diagnostic maintenance of CFC and SFC charts using various PCS 7 tools.
Analyze AS, OS, PC and communication diagnostics.
Configure and use the SDT (SIMATIC Diagnose Tool).
Replace faulty modules/devices.
Topics
Introduction to training
a. Concept of the training
b. Schedule through the training
c. Overview of the accompanying documentation
d. Training equipment
e. Access to these systems of other participants
SIMATIC PCS 7 Documentation and Online Support
a. Documents available after PCS 7 Installation
b. Additional sources of information
c. Industry Online Support Internet Portal
d. Working with mySupport
e. Support request
f. Forum - Communication platform for products from Siemens Industry
Requirements and Functional Process Description
a. Overview
b. Flowchart
c. Functional process description
d. Operation of reactor 310
System Design and Component Specification
a. Typical system architecture
b. Typical requirements of a process control
system
c. Database based system
Project-specific settings
a. Important basics SIMATIC Manager
b. Typical structure of a multiproject
c. Important basics WinCC Explorer
Project-specific architecture and Configuration
a. Architectures in PCS 7
b. Determining the plant-specific architecture
c. Project-specific plant configuration
Methods for problem analysis
a. Causes of errors/faults
b. Initial problem analysis
c. Typical errors/faults and effects in the message list
d. Activities if a problem occurs
e. Finding causes of problems
f. Localization of the cause of the problem
Diagnostics options with PCS 7
a. Message lists in PCS 7
b. Asset Management in PCS 7
c. Analyze a CFC chart (Continuous Function Chart)
d. Analysis of an SFC chart (Sequential Function Chart)
e. Analysis of the hardware configuration of an AS
f. Analysis on the plant bus
g. Analysis on the terminal bus
h. Analysis on PROFIBUS
i. Analysis on PROFINET
j. Local analysis of the devices
k. Analysis PC station
l. Siemens Diagnostic Tool (SDT)
m. Summary
Procedure for eliminating problems
a. Replacing modules and field devices: Preliminary considerations
b. Replacing signal modules (SM)
c. Replacing a PROFIBUS/PROFINET interface module (IM)
d. Replacing a PROFIBUS DP field device
e. Replacing a PROFIBUS PA field device
f. Replacing a PROFINET field device
g. Replacing a HART field device
h. Moving a field device to a different channel (rewiring)